ChurchTrac is the best Tithely alternative.
Here are a few reasons why...
Why Choose ChurchTrac over Tithely?
Better Price
Tithe.ly Giving may be free, but their add-on apps quickly add up. Their ChMS app alone costs $49/month. They also offer websites, a church app, and messaging apps. These apps cost extra.

Tithe.ly's pricing structure inevitably leads churches to selecting the $99/month plan that includes all of their applications. This does not include a $149 setup fee, giving fees, or messaging fees.

The Tithe.ly pricing structure is a flat-rate price for every ministry. At a minimum of $1200 a year, this puts heavy pressure on the budgets of churches and ministries with less than 300 people. ChurchTrac not only has more features than Tithe.ly, for most churches the price of ChurchTrac is typically a fraction of what Tithe.ly would charge. In fact, Tithe.ly costs TWENTY TIMES more than ChurchTrac for smaller ministries. Larger churches could save thousands of dollars a year by switching to ChurchTrac.

At ChurchTrac, our belief is that smaller churches should pay less. We also believe in the mission of the local church, and we don't want any church (large or small) to pay more than what is reasonable. ChurchTrac's pricing makes it easy to customize your plan according to the size of your church and the features you want without needing to overpay. We think the software you choose should be a blessing to your ministry, not a financial burden.

On average, mid sized churches switching from Tithe.ly ChMS to ChurchTrac save $700 a year. Smaller churches save even more, making ChurchTrac the #1 most affordable alternative to Tithe.ly. And if you're a larger church or if you want the ChurchTrac's "Unlimited" name option, your monthly cost is still significantly less than the cost of Tithe.ly, regardless of ministry size.

When you take into consideration the fact that Tithe.ly does not include accounting features, your savings with ChurchTrac are even bigger.
"ChurchTrac had by far the most options included for the price. And their price is at least half of most companies. The monthly subscription includes not only management tools for people, but also accounting as well (which is a huge bonus)."
-Pastor Jerrod @ Harlowton Faith Chapel (Capterra Review)
Better Support
Sure, Tithe.ly has some resources to help you learn and use their application. Tithe.ly offers free support which consists of a knowledgebase, chat, videos, and a handful of previous webinars in Tithe.ly U. They give you the option to schedule a phone call, but you cannot select an exact time to be called.
With ChurchTrac, we take more of a hands-on approach. Yes, ChurchTrac is intuitive and super simple to use, but we still offer training videos, live webinars with Q&A, and even free one-on-one workshops. You can even schedule a call with the support team at a time that works best for you.
While many companies take hours to reply to your questions, our team typically handles most support incidents in less than 1 business hour.
Our support goes deeper than software.
We see every church as a ministry partner, not a customer. Any way that we can help your ministry succeed, we're here for you. Whether it's helping you craft a better safety protocol for your Children's Ministry, or simply praying for you and your family...that's what we do.
Accounting and Budgeting
With Tithe.ly, you can track giving, but you can't keep track of finances. Instead, you have to purchase (yet another) third-party tool. These tools often cost just as much (if not more) than Tithe.ly.
ChurchTrac gives you the ability to track all of your income and expenses, and to plan your spending using budgets. You can also print checks, reconcile transactions, import bank statements, and generate easy-to-understand financial reports. Since ChurchTrac is a true Fund Accounting program made for churches, you can easily track and manage your fund balances. Volunteers love ChurchTrac's simplicity; Accountants love the features.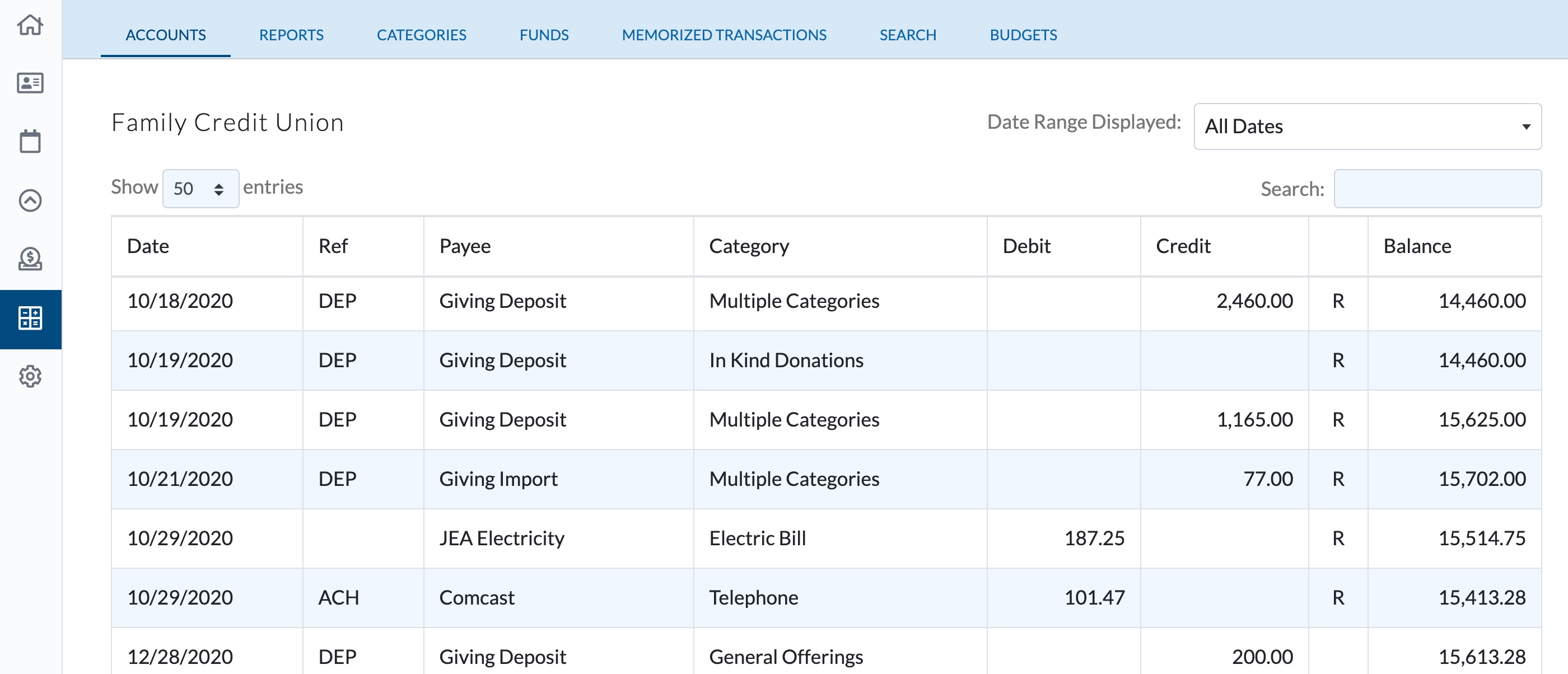 Worship Planning
Both Tithe.ly and ChurchTrac have worship planning features. With Tithe.ly, you'll need to pay for another (expensive) add-on to have access to worship planning tools. Churches ending up having to bundle all the Tithe.ly apps to get the worship app. This makes Tithe.ly's cost go up into the upper realm of pricing.
ChurchTrac gives your worship leader the tools to plan services, schedule teams, and manage their song library. ChurchTrac also features chord transposing, scheduling reminders, and an integration with SongSelect.

Since your worship leader can use ChurchTrac for all their scheduling, they don't have to worry about double scheduling volunteers. Let's say your Children's Pastor scheduled Emily to serve in the nursery next Sunday. If your worship leader tries to schedule Emily on that same Sunday, ChurchTrac will show a scheduling conflict.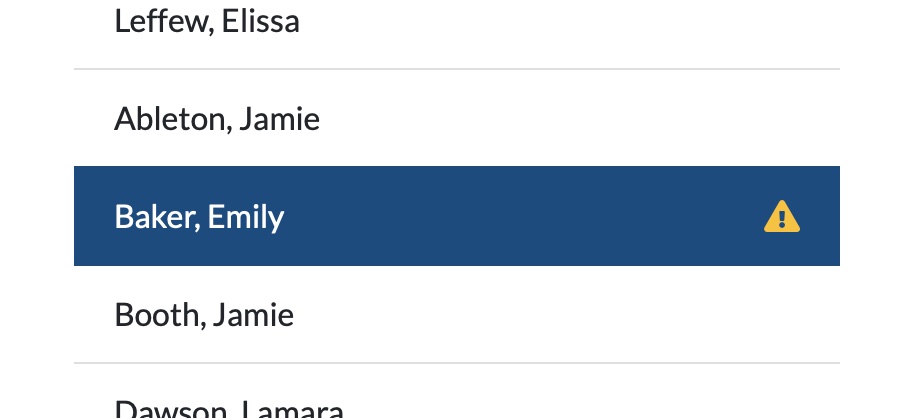 Simplicity
Both ChurchTrac and Tithe.ly are easy to learn and use. However, Tithe.ly's user-interface is designed in such a way that makes you click more times than necessary to complete simple tasks. In an independent review by Capterra, ChurchTrac was ranked #1 in task completion times. Tithe.ly never made it on that list.
Church Connect
ChurchTrac is the only church management solution that includes a church website AND app...at no extra charge! Tithely doesn't have anything that compares. Church Connect is the member-facing side of ChurchTrac. Your congregation can install the App on their Apple or Android devices in seconds by simply scanning a QR code.
Best of all, it works seamlessly with ChurchTrac. When people sign in or register for Church Connect, they're automatically linked to the correct person in ChurchTrac (or you can quickly add a new person to ChurchTrac based on their registration information). Members can view and update some elements of their own profile, making it easy to keep your database information current.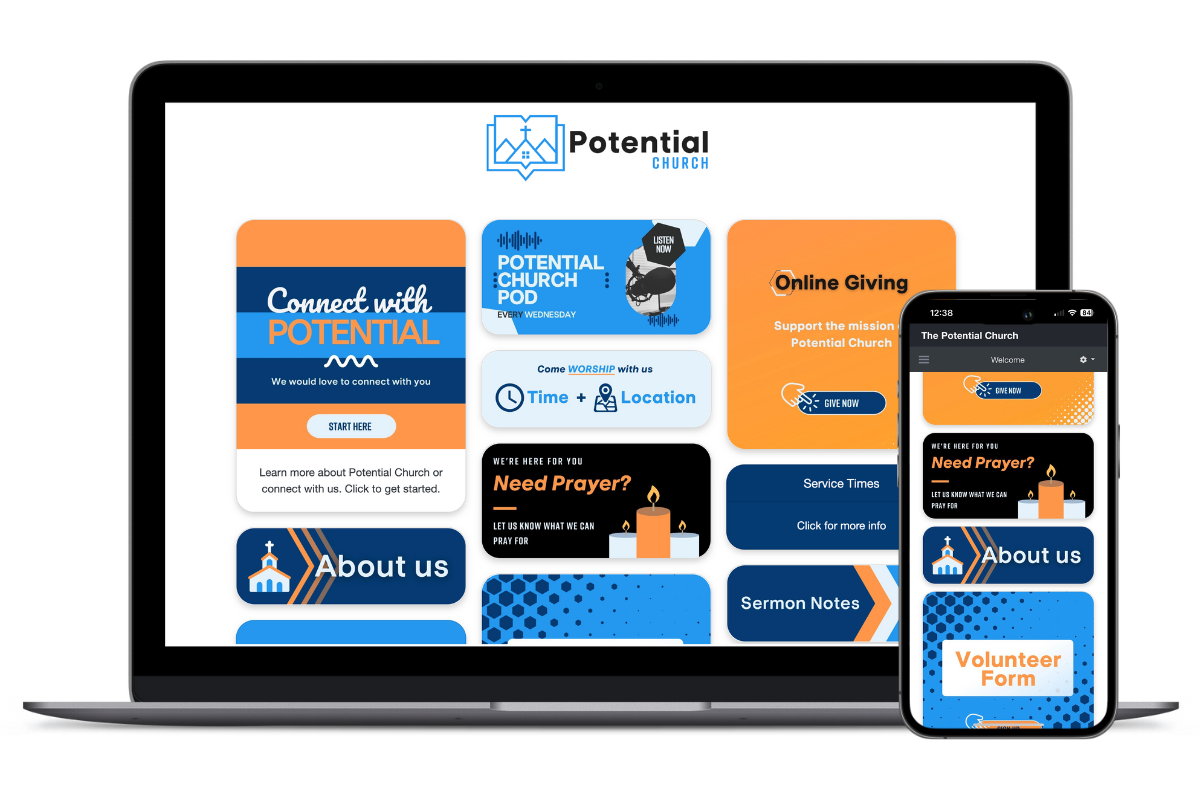 Your people will always be up-to-date with the latest announcements, plus they have the ability to submit prayer requests, spiritual decisions, or any other information to your leadership through our custom form builder. Church Connect also has a self-check-in feature, allowing your members to mark themselves and family members present when arriving at church.
Members and contributors can give online through Church Connect, as well as view their giving history, and print their own contribution statements. Your donors can set up ACH giving or text giving too.
Church Connect can display upcoming events for your ministry. Your people can even register for events right from your page, or from the web app. Volunteers and band members can respond to invites to serve when they are scheduled, or they can enter dates they're not available to serve. Musicians can access this week's worship outline, sheet music, or chord charts....all from their mobile devices.
We Love the Local Church
ChurchTrac has been around since 2002, growing to be the preferred choice of most small and mid-sized ministries. We focus on the needs of churches first. While many companies only care about larger churches,
we decided to be different
.
We're a team of people that have firsthand experience in leading worship, teaching, preaching, church finance, children's ministry, and more. We serve in the local church, so we know the needs of the local church. Our experience helps us to serve you better.
Your ministry is our ministry. Your mission is our mission. We love to help churches, and we often get feedback like this: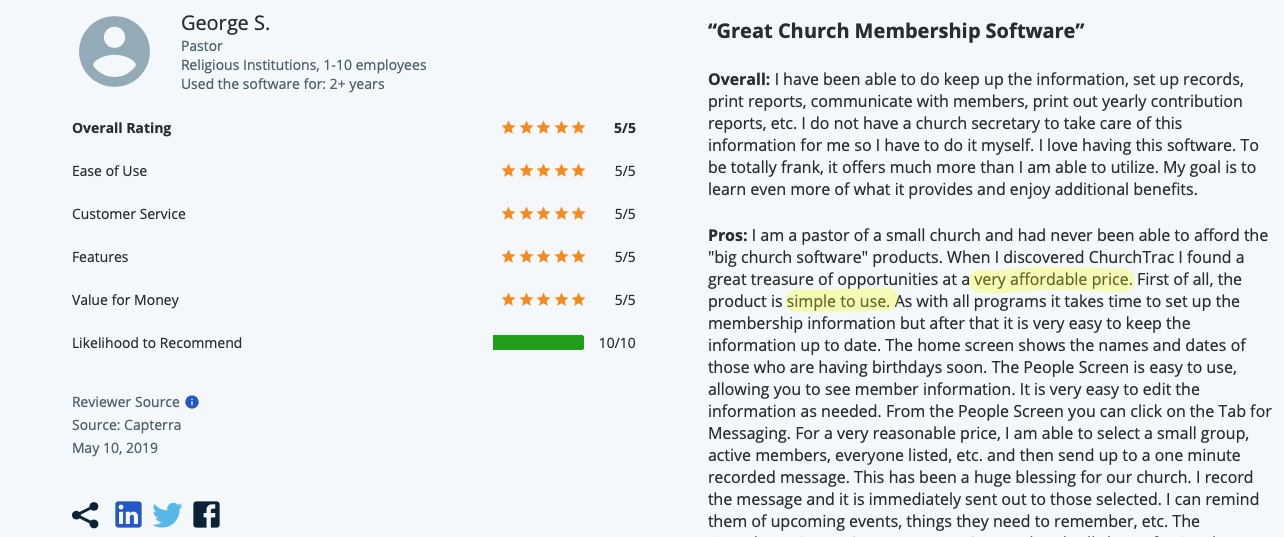 And this...

ChurchTrac is the best option for price and performance, beating Tithely...and everyone else.
Your ministry is our ministry.
We go deeper than software. We see every church as a ministry partner, not a customer. Our mission is to help you achieve your mission. Our passion is to serve you. Nobody cares for churches like ChurchTrac.